Home
Job Placement
Articles
Testimonials
ABC History
Management
Bartending Course
Bartending Blog
Hire a Bartender
Atlanta
Birmingham
Boston (affiliate)
Chicago Downtown
Chicago NW Suburbs
Chicago S. Suburbs
Columbus
Dallas
Denver
Detroit
East Bay
Fort Lauderdale
Ft. Worth
Honolulu
Houston
Inland Empire
Jacksonville
Las Vegas
Los Angeles
Miami
New York City
Orange County
Orlando
Palm Beach
Pasadena
Phoenix
Riverside
Sacramento
San Bernardino
San Francisco
San Jose
Seattle
South Beach
Tampa
Links
Site Map
Additional Schools
Here are just a few of the letters of recommendation about Tony Sylvester and his Bartending Schools Nationwide.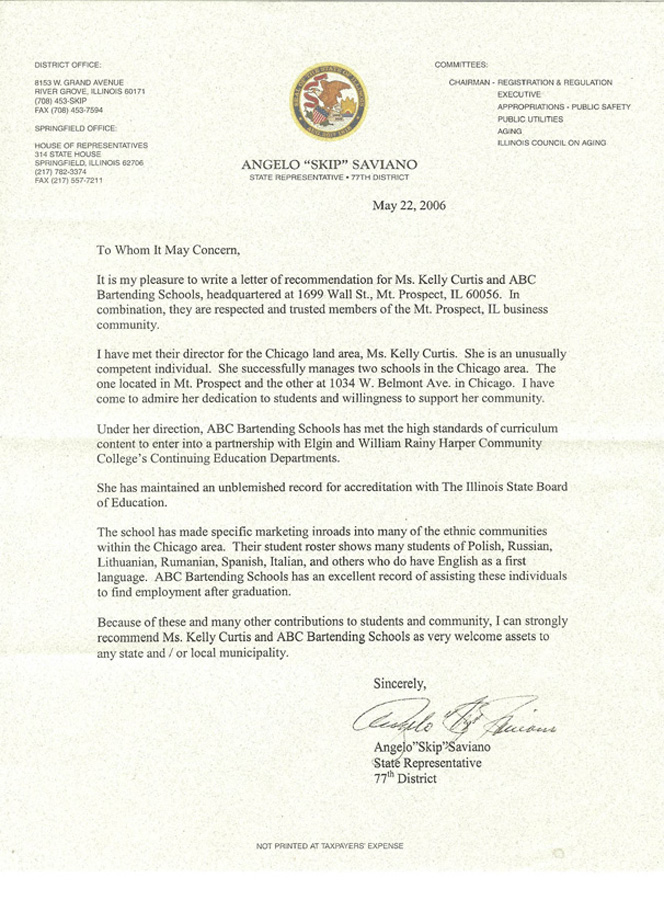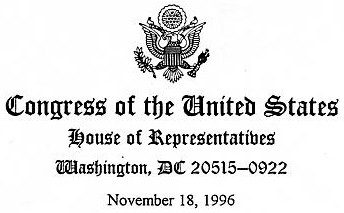 The Honorable Lawton Chiles
Governor
State of Florida
The Capitol
Tallahasse, Florida 32399

Dear Lawton:

Mr. Tony Sylvester is seeking to be appointed to the State Board of Independent Postsecondary Vocational, Technical, Trade and Business Schools in Florida. Mr. Sylvester operates bartending schools in Ft. Lauderdale, Miami, West Palm Beach, Orlando, Jacksonville and Tampa. He has been a resident of Florida for over 19 years and served his country in the Vietnam war.

As the State Board of Independent Postsecondary Vocational, Technical, Trade and Business Schools does not have a member from Broward County, Florida, I would appreciate your consideration of his application. I appreciate your assistance in the matter. Please feel free to contact me if further information is needed.

Sincerely,

E. Clay Shaw, Jr.
Member of Congress
(Tony Sylvester was recommended for a position on this board by Congressman E. Clay Shaw, Jr. He is not a member.)

To:
Tony Sylvester
ABC Bartending Schools
3419 N. Dixie Highway
Ft. Lauderdale, FL 33334
From:
Don Hendricks
Manager, Beverage Operations
Subject:
ABC Bartending Schools
I just wanted to thank you for your quick action in sending me "specialty" bartenders. I found the gentlemen you set me to be exactly what I had requested.

I look forward to having many more of your students as bartenders on Royal Caribbean International.

It's been a pleasure to know you and to work with you over the years.

Sincerely,

Don Hendricks
Manager, Beverage Operation

To:

From:

Date:

Re:

Tony Sylvester

Jeremy Adams

9/21/99

Club Med Training Program.

Dear Tony,

Starting today using the information you gave me during our meeting in Palm Beach, I will work on a training program that will be adapted to our company. I am impressed with the set-up that you have in your Palm Beach location and I am convinced that this could be a beneficial program for our staff. I will also be looking to hire your students for our 120 locations worldwide when any openings come up. Please feel free to have any of your students contact me, who you feel would like to apply for a position with Club Med.

Jeremy Adams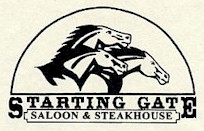 Tony Sylvester
ABC BARTENDING SCHOOLS
5036 W. Katella Ave
Los Alamitos, CA 90720
March 23. 2001
Dear Tony:
I would like to thank you for the tour you gave me of your school. I have been in the hospitality business for over 30 years and I must say, I was very impressed with your beautiful school set-up and I was equally impressed with the school training manual and curriculum. As I pointed out to you, we are looking for hard working, clean cut people who can handle our busy lounge.
In closing, I would like you to know that anytime we need a bartender here at the STARTING GATE SALOON, I'll call your school to help fill the position.
GOOD LUCK
Ken Brandyberry
OWNER
5052 W. Katella Ave., Los Alamitos, CA 90720

October 12, 1998
ABC Bartending School,
I wanted to thank you for the professional and reliable bartenders your school has provided me with for the Park Bench.
My bartenders trained at ABC Bartending School have been truly outstanding. I will recommend your school to anyone seeking a career as a professional bartender.
Thanks for all your help!
Sincerely,
Larry Hall
Owner
256 E. Paces Ferry Road, Atlanta, GA 30305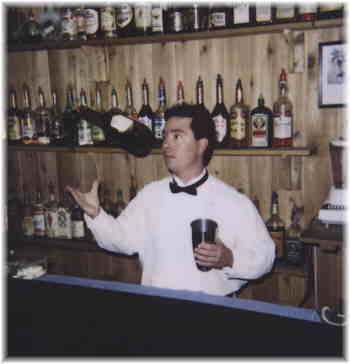 Mr. Ron Hobbs
ABC Bartending School
Dear Mr. Hobbs,
I am writing this letter on behalf of one of your graduates, Jim Churchill. Jim arrived here with the skills, knowledge and training necessary for his position as Bartender at the Boulders Club. His preparedness made an immediate impact on our operation.
If Jim Churchill is a typical example of one of your students, I am convinced that you are conducting a quality program.
Thank You,
Dan Frost
Club Food and Beverage Manager
34831 North Tom Darlington Drive, Carefree, Arizona 85377
December 12, 2000
Dear Tony,
Thank you for all the highly trained and qualified bartenders you sent us in our recent takeover of The Fiesta Hotel and Casino. It made for a very smooth transition knowing that all the bartenders that we hired from ABC Bartending were very knowledgeable, confident and ready to jump behind the bar and get right to work.
I will definitely recommend your school to all of the food and beverage directors at the Station Casinos.
Sincerely,
Mike Madrid
Director of Food & Beverage
2400 N. Rancho Drive . Las Vegas, Nevada 89130
Click Here for More Testimonials